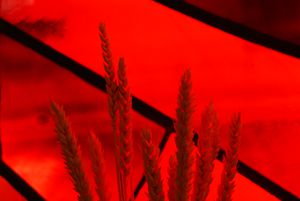 The Holy Week
We are going to complete our forty days of Lenten season and we have started our Lenten season with the desert experience. Inspired and led by the Holy Spirit we have entered in to the desert to be alone with the Lord. In the Holy Bible, it is a place of divine encounter, it is the place of passage towards the Promised Land, it is a place of purification and essentially it is a place of solitude and of silence where we are alone with Lord, listening to His life giving Words.
The desert
The desert seems to be an empty place. To all those haven't been here, it is true. It is a sign of emptiness and solitude. But people those have been here share with us the richness of the desert. They were content to be there, to experience the beauty of the open sky where they discover themselves and the smallness of human being, alone in-between the great sky and the immense earth. They don't meet a lot of people, but the meetings were extra-ordinary and they appreciate every human relationship, because the human relationship has on a sudden have become a rare commodity. Here they experience the hospitality of the people, they learn to share the life, they learn to open themselves to the uncertainty of life, they learn to adopt themselves to the new situation, etc. Thus they discover the invisible God in the face of the earth and especially when they meet an individual. They see God everywhere. Thus every desert experience gives us a new meaning to our lives.
But we have our own personal desert experience. If we look in to our own desert experience we will find out that it has helped us to find out that it is in this emptiness we find the fullness of God and it is in this meaninglessness or worthlessness that we have seen plenty of God's signs in our lives, just like saint Jean, who saw the empty tomb and believed. Being with the Lord have never guarantied us a life with roses, rather a life with thorns, but with lots of joy and inner peace. The more we go closer to God, the more we discover how far away we are from the Lord. Thus every desert experience is meeting with the Lord. If we have lived this Lenten season meaningfully, we would have already lived this God experience in our life.
The Temptation
Only the good people are tempted, because others have already succumbed to it. The more we go closer to God, the more we are tempted. The great figure of Old Testament, Job is not something of the past, but is very much a reality in our own lives. He was living in the presence of the Lord. Jesus Himself was tempted after being let by the Holy Spirit. It is in this presence of the Lord we met the tempter and we know that there were moments we have allowed ourselves to be tempted. Temptation in itself was not something holy or something to be searched for. Lead us not in to temptation, was the Lord's Prayer. The temptations follow us faithfully, more than our faithfulness to the Lord. At the same, we have to humbly accept that it is through these temptations we discover our own weakness and we realize how much we are in need of the Lord. It is through these temptations we discover the Lord who accompanies us and supports us. These temptations help us to know ourselves very deeply and we discover a God who loves us and forgives us.
Today we are entering in to the Holy Week. And it for this day that we were preparing since long so that we could celebrate this Holy Week more meaningfully, be able to profit from these wonderful liturgical and Para-liturgical celebrations and discover a God who takes up the Cross for us and suffers, so that we could rediscover our purity of life, the presence of God in our lives, live our life fully and joyfully, and enter in to the heavenly joy, prepared and proposed by the Lord for the salvation of every individual and to the whole creation.
The Palm Sunday
We are at the gate of Jerusalem and there is a moment of festivity and celebration. People are happy and proclaiming with joy and hope of the accomplishment of the prophecy of great prophets, acclaiming him as the king of Jews that Pilate will re-use the same expression to mock Jesus.
Let us look at the face of Jesus little deep. There is a vast difference of what is going around him and what he is feeling interior of himself. There is a serenity and peace. There is a humble acceptation of the acclamation, being fully aware that this acclamation will end up by 'crucify him.' He recalls in to himself all that are going to happen within few days.
Nothing is happening by hazard. Everything is detailed, programmed and executed. Even the animal is well chosen. But from where these people got the idea of Kingship in Jesus? From the shepherd boy David………..? We can easily assume it. They call Him as son of David, chosen by the Lord? We are also chosen by the and send by the Lord. Do we have the humility to accept essentially the good things about us and equally the things we have to improve?
The Maundy Thursday
It is the most important day for Jesus after the crucifixion, the last meal which he can share with His beloved disciples as totally human and divine. How much He longed to remember this moment with His disciples. He did remind them to recall this moment. In later days, the people have recalled this wonderful gift of God that Jesus has left behind us and they have concretized it in to a liturgical celebration.
Eucharistic adoration and Eucharistic celebrations are slowly loosing its importance due to the lack of priests and due to the lack of time. People don't have the time to consecrate for a long celebration. Church is slowly getting ready for the celebration of the Word, and let it not be at the coast of the Eucharistic celebration, the source of our Christian faith.
Jesus at the table establishes the priesthood and shares this with his disciples. All these happen in the ambiance of Jewish tradition, without disturbing his disciples, who are basically sincere Jewish believers. While celebrating the Passover feast, He did something extra ordinary, took the bread and gave to His disciples, take it and eat it, this is my body. No one except Jesus understood these words. There are still a lot remain for us to understand this mystery of trans-substantiation.
In this celebration there is a serenity and precipitation. In the old tradition of Passover celebration, there is something new is passing on. There is a new alliance which God makes with us once and for all in Jesus Christ. I will give myself for the salvation of my people. He gave himself fully. He prepared this day for years. There is a hurry, hurry not to finish the meal and run off just like any other Jews, rather, a hurry to accomplish to it perfection. Not like that of Palm Sunday, here is a festivity totally different, in a closed door, reserved to his dear ones. We are close to God. He keeps us in this heart and longs to share this meal with us, for our own holiness and joy.
There are two things mark this day. The first one is evidently the washing of the feet. For the Europe, this is very much an old tradition and I have seen in many parishes they don't have this beautiful rite, even in my own chapel, I won't do this because they said that it is not their tradition. Jesus washing the feet of his disciples may invite us not only to serve the humanity, but also the humility and purification. Washing of our feet, is essentially to clean, to purify. Even though this purification aspect has lost its importance, the humility of Jesus and his invitation to serve the people do rayon in our hearts, "If I your master wash your feet, do the same too others."
Certainly arms giving and charitable activities get a boost during this season. Let us not be content with mere social development activities or charitable activities, but for the transformation of the World. Jesus didn't come to do charity, but to save the world. Through our service and availability for the needs of others, we can create a new world, a new Jerusalem. To serve people, we need the Lord and His eternal presence in our lives.
The second part of today's celebration is the Eucharistic adoration. It is true that in the Eucharistic presence Jesus doesn't disturb us but if we open ourselves before Him, how can we remain without being disturbed of His unconditional love for us. It is in his silence that He listens and speaks to us. It is in this silence that we are called to listen to Him and speak to Him.
Conclusion
The disciples who were very close to God were invited to follow him and to be with Him. Let us follow him not only to the mountain of Olives, but to Jerusalem. Since He is going to carry our sins, it is not nice from our part to leave Him alone. If you are a woman take up a little cloth to wipe His blood stains. If you are a man, take courage and pick up the cross just back to Him. Today the Lord needs us, He needs us for his own people, to say to them that He still loves them and takes care of them. There are many who are in need of His forgiveness. I wish you all a very very Holy Week and May the Good Lord bless you all, Amen.