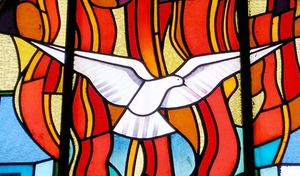 Évangile de Jésus Christ selon
saint Jean 14,15-16.23b-26.

En ce temps-là, Jésus disait à ses disciples : « Si vous m'aimez, vous garderez mes commandements.
Moi, je prierai le Père, et il vous donnera un autre Défenseur qui sera pour toujours avec vous.
Si quelqu'un m'aime, il gardera ma parole ; mon Père l'aimera, nous viendrons vers lui et, chez lui, nous nous ferons une demeure.
Celui qui ne m'aime pas ne garde pas mes paroles. Or, la parole que vous entendez n'est pas de moi : elle est du Père, qui m'a envoyé.
Je vous parle ainsi, tant que je demeure avec vous ;
mais le Défenseur, l'Esprit Saint que le Père enverra en mon nom, lui, vous enseignera tout, et il vous fera souvenir de tout ce que je vous ai dit. »
Homélie
Si la tour de Babel était une malédiction et le peuple était dispersé par la langue, la fête de la Pentecôte vient avec une bénédiction qui rassemble tous comme un seul peuple réuni par la langue, tous ont compris dans leurs langues maternelles. La tour de Babel nous montre que le peuple d'Israël travailla dans l'orgueil et le nouveau peuple de Dieu travaillera dans la prière et dans la fidélité au commandement de l'amour. La communauté chrétienne est connue par sa prière, son unité et pour son amour. Voici mon commandement, aimez-vous les uns les autres comme je vous ai aimé.
Les journaux parlent sans arrêt sur les attenants, les violences, les massacres, les calamités. Avec les autres nous posons ces question pleinement dans l'ignorance, comment pouvons-nous nous pardonner, particulièrement les ennemies de l'amour, de la paix, et comment pouvons-nous nous aimer tous ceux et celles qui menacent les pauvres et les opprimés? Puisque Dieu les aime, nous ses enfants ne pouvons pas les haïrent.
Si nous trouvons difficile de les aimer et les pardonner, nous devons nous poser cette question. Sommes-nous habités par l'Esprit Saint ? Sommes-nous guidés par cet Eprit de Dieu qui nous aime ? Agir selon la chair, c'est agir selon nos intérêts personnels, sans consulter la volonté du Seigneur. Saint Paul nous dit, si nous vivons selon l'emprise de la chair, nous ne pouvons pas plaire à Dieu.
Lors de notre baptême, chacun et chacune a reçu une mission, la mission de l'Eglise du Seigneur, une vocation universelle, dite la vie chrétienne. Le contenu de cette vie chrétienne est un amour sans frontière. « Celui qui m'aime garde mes paroles. »
La Pentecôte, c'est la fête de l'Eglise parce qu'ils étaient tous, les apôtres, les disciples, Marie, ensembles dans la prière. C'est en Eglise que l'Esprit-Saint est reçu, personnellement et communautairement. L'Eglise du Seigneur est née aujourd'hui. Elle est une communauté qui témoignage la résurrection dans sa vie quotidienne, sans perdre l'espérance et la joie intérieure. Comme les disciples du Seigneur, nous sommes appelés à être les fondements de l'Eglise du jour, en parcourant comme eux, un itinéraire spirituel, ajustant progressivement notre foi commune à la réalité de la résurrection. C'est ainsi nous pourrions renouveler cette nouvelle alliance qui est conclue dans l'Esprit du Père et du Fils.
La Pentecôte nous invite à nous ouvrir à cet Esprit qui nous fait devenir des témoins et des messagers du Christ et de son message d'unité et de paix. L'Esprit-Saint, envoyé par le Père et le Fils pour nous éclairer, nous aidera à découvrir la Vérité, et cette vérité nous sauvera. « Viens, Esprit Saint en nos cœurs…..Assoupli ce qui est raide, réchauffe ce qui est froid. Rends droit ce qui est faussé. Amen.
In English
Holy Gospel of Jesus Christ according to Saint John 14:15-16.23b-26.

If you love me, you will keep my commandments.
And I will ask the Father, and he will give you another Advocate to be with you always,
Jesus answered and said to him, "Whoever loves me will keep my word, and my Father will love him, and we will come to him and make our dwelling with him.
Whoever does not love me does not keep my words; yet the word you hear is not mine but that of the Father who sent me.
I have told you this while I am with you.
The Advocate, the holy Spirit that the Father will send in my name--he will teach you everything and remind you of all that (I) told you."
Homily
If the Tower of Babel was a curse and the people were dispersed by different language, the feast of Pentecost comes with a blessing that brings together all as one people united by the language, all understood in their native languages. The Tower of Babel shows us that the people of Israel worked in the pride and fear, whereas the new people of God will act in freedom as a liberated community united in prayer and in fidelity to the commandment of love. The Christian community is known by this union of prayer, social unity binds in love and forgiveness. This is my commandment, that you love one another as I have loved you, is the rule of this community.
However the newspapers talk incessantly on the terrorist attacks, violence, massacres and calamities which provoke in us a deep fear and uncertainty. How to be liberated from such events which surrounds our daily life? Just like many others, we ask these questions fully in ignorance, how can we forgive others, especially the enemy of love and peace? How can we love us all those who threaten the poor and oppressed? Though these question may give an impression that we are just and correct in front world justice, these are all very much displaced questions for a believer of God. Since God loves them, we as children of the same God, we are called to carry in us the same loving and merciful image of God.
If we find difficult to love and forgive, we must ask ourselves this question. We are inhabited by the Holy Spirit? Are we guided by this spirit of God who loves us? Act according to the flesh is to act according to our own interests without consulting the will of the Lord. Judging everything with emotions and sentiments, without having all the truths before us. Saint Paul tells us, if we live according to the flesh, we cannot please God. We as the temple of the Holy Spirit are called to have this trace of Spirit in our words and in our deeds. We can't afford to live just like any ordinary people. We participate individually and as a community in this very Body of Christ, who has given us His life and is resurrected. Our waiting for this resurrected life will lose its meaning, if we allow ourselves to be guided purely of earthly values.
At our baptism, each one of us have received a mission, the mission of the Lord's Church, a universal vocation, called the Christian life. We have promised that we become Christ for others. Only the Holy Spirit can transform us, the poor sinners, into the Body of Christ. The content of this Christian life is love without borders. "Whoever loves me keep my words.» This Spirit helps us to know God and how to love Him. Without this knowledge of God, a loving relationship with God is very difficult.
Pentecost is the feast of the church because they were all, the apostles, the disciples, Mary, together in prayer. It is in the Church that the Holy Spirit is received, personally and communally. This individual gift is for the greater glory of God, for the better of the community. Many Christians fail to understand that our faith is a communitarian faith, fully united with the Trinity. God and the Son send us the Holy Spirit.
The Church of the Lord is born today, in the Trinity. It is a community that witness the resurrection in in their daily life without losing hope and inner joy, though we are discouraged by the events of our contemporary world. Let us not loose heart. The Lord who loves us, will never abandon us. As the Lord's disciples, we are called to be the foundation of the Church of the day, keeping in mind that we are guided by the Holy Spirit, progressing in our spiritual journey, gradually adjusting our common faith in the reality of the resurrection. Thus we can renew this new alliance concluded in the Spirit of the Father and the Son.
Pentecost invites us to open ourselves to the Spirit who makes us witnesses and messengers of Christ and His messengers of peace and unity. The Holy Spirit, sent by the Father and the Son to enlighten us, will help us to discover the truth, and this truth will save us. "Come, Holy Spirit in our hearts and remove the darkness of our ignorance and unfaithfulness. Amen.