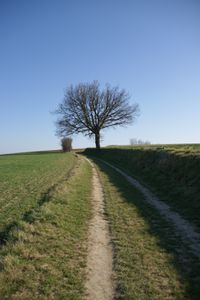 En Français
Notre préparation au Carême de quarante jours, nous dira la profondeur de notre foi et notre amour pour le Seigneur, car ces quarante jours nous avons essayé à découvrir la présence de Dieu et son accompagnement dans notre vie quotidienne. Nous voici devant le Ressuscité.
Notre démarche vers le désert nous a aidés à être seuls avec Lui, en contemplation. Aujourd'hui avec certitude nous pouvons affirmer que le désert n'était pas un lieu de vide, mais une richesse qui nous a permis de nous vider pour que nous soyons remplis par sa richesse. Au début, nous n'avons pas voulu y enter, il nous a fit peur. La solitude nous a agacés. Aujourd'hui, nous voudrions y demeurer, car la nouvelle vie recommence à partir de cette rencontre divine.
Le passe-over du passé a perdu son importance devant ce nouveau passe-over. Nous nous ressentons que nous sommes les nouveaux nés dans le Christ, qui nous fait participer à sa résurrection. Par sa mort nous retrouvons notre vie, une vie pleinement auprès Dieu, la vie éternelle.
Une nouvelle vie, avec une nouvelle mission. « Allez dire aux autres que Je suis vivant ». Ne perdons pas l'espérance, ayons confiance. Il reviendra. De notre part, ne le forçons pas de le faire encore une fois, car ça Lui coutera très chère. Ce n'est pas juste. En revanche, nous pouvons nous rentre encore une fois au désert. Ce désert est avec nous et nous pouvons confronter cette solitude lorsque nous ressentons le vide en nous.
In English
Forty days of preparation of Lent, which resembles forty years of March of the people of Israel, will tell the depth of our faith and our love for the Lord. For these forty days we tried to discover the presence of God and hHs guidance in our daily lives. Here we are before the Risen One, one who has given us the new way, new life, the new truth in Him. To Thomas who was disturbed of the new adventure proposed by Christ through death and resurrection, will find a new hope in the resurrection of the Lord.
We have to however accept that our approach to the desert helped us to be alone with Him in contemplation and it is in this contemplation that our action should find its resource. Our solitude with the Lord was in union with people of God, thus in our faith we are united not only to the Lord of peace and reconciliation, but also to all who are connected with the resurrected.
After living a meaningful desert life, today we can say with certainty that the desert was not an empty place, but rich in our personal experience with the Lord that has allowed us to empty ourselves so that we are filled with divine richness. At first sight a solitude life we did not wanted to enter, it does frighten us. Solitude has annoyed us and does disturb us. Today, we would dare to stay there because the new life begins from this divine encounter, a personal encounter, which is possible only in our desert life.
The pass-over from the past has lost its importance to this new pass-over. We feel that we are new-borns in Christ, who makes us participate in His resurrection. By his death we find our life, a life fully to God, eternal life.
A new life, with a new mission. "Go tell others that I am alive." Do not lose hope and have confidence. He will come back. On our part, do not force Him to do it all over again, because it will cost Him dear. It is not fair. However, we can still go for a desert life once again. This desert is with us and we can confront this solitude when we feel within us empty.
Our Lord has taken the cross for us that we may not suffer. Has taken it for us so that we may live in peace and gratitude. The new life that we have received from the Lord may illumine our daily life. Let us not forget the baptismal promise: keep the light of hope, faith and charity alive. I wish you all a holy Easter and God's blessings. Do pray for me that I may continue to take His cross with mine so that He may lead me towards the resurrection.