Publié le 21 Décembre 2014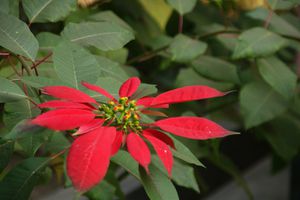 Évangile de Jésus Christ selon saint Luc
En ce temps-là,
l'ange Gabriel fut envoyé par Dieu
dans une ville de Galilée, appelée Nazareth,
à une jeune fille vierge,
accordée en mariage à un homme de la maison de David,
appelé Joseph ;
et le nom de la jeune fille était Marie.
L'ange entra chez elle et dit :
« Je te salue, Comblée-de-grâce,
le Seigneur est avec toi. »
À cette parole, elle fut toute bouleversée,
et elle se demandait ce que pouvait signifier cette salutation.
L'ange lui dit alors :
« Sois sans crainte, Marie,
car tu as trouvé grâce auprès de Dieu.
Voici que tu vas concevoir et enfanter un fils ;
tu lui donneras le nom de Jésus.
Il sera grand,
il sera appelé Fils du Très-Haut ;
le Seigneur Dieu
lui donnera le trône de David son père ;
il régnera pour toujours sur la maison de Jacob,
et son règne n'aura pas de fin. »
Marie dit à l'ange :
« Comment cela va-t-il se faire,
puisque je ne connais pas d'homme ? »
L'ange lui répondit :
« L'Esprit Saint viendra sur toi,
et la puissance du Très-Haut
te prendra sous son ombre ;
c'est pourquoi celui qui va naître sera saint,
il sera appelé Fils de Dieu.
Or voici que, dans sa vieillesse, Élisabeth, ta parente,
a conçu, elle aussi, un fils
et en est à son sixième mois,
alors qu'on l'appelait la femme stérile.
Car rien n'est impossible à Dieu. »
Marie dit alors :
« Voici la servante du Seigneur ;
que tout m'advienne selon ta parole. »

Alors l'ange la quitta.
Homélie
L'évangile du jour nous amène vers Marie, une personne exceptionnelle, qui s'engage à l'accomplissement de la volonté de Dieu. « Que ta volonté soit faite. »
L'annonciation se passe dans un endroit discret, à la maison, seul avec Marie et ange. Une invitation personnelle avec les implications universelles. Dieu nous invite individuellement comme Maire pour une mission universelle. Marie qui a écouté la Parole de Dieu et a mis au monde son Fils unique, va répéter la même demande à nous, « Faite tout ce qu'Il vous dira »
Depuis quelque semaine nous nous préparation à Noël afin de pouvoir participer dans notre petitesse à la joie de Marie et à son enfant. Comme le peuple d'Israël, nous attentons le Seigneur, qui va naître en nous, seul, dans notre intimité. « Le seigneur est avec vous » dira l'ange à nous avec une mission si large, dont nous sommes invités à participer et à annoncer, non seulement nous tous individuellement, mais avec les autres, les visages connus et inconnus.
Attention, rien ne marchera comme prévu. Nous ne saurons jamais capable de savoir la manière donc Dieu va agir. Il y aura les bouleversements. Nous ne comprendrons pas les événements qui vont nous frapper. « Sois sans crainte, Marie, car tu as trouvé grâce auprès de Dieu. Et l'Esprit Saint va t'envelopper », sera notre consolation. Dieu sera avec nous.
Aujourd'hui jusqu'à la fête nous garderons 'la demeure de Dieu' comme un thème de méditation continuerons à ressentir la joie. Le roi David dans sa générosité a voulu construire le temple de Dieu, une bonne intention avec un engagement positive où il a espéré d'emprisonner la présence de Dieu éternellement chez-lui. C'est étonnant l'homme va construire une demeure pour Dieu. Nous ne pouvons pas et devons pas mettre Dieu à sa place. La tradition continue encore à notre temps, une présence de Dieu dans notre église dans le tabernacle. L'Eucharistie est une présence divine et véritable.
Je vous exhorte mes amis, n'oublions pas que Dieu demeure en nous. Nous sommes les temples de l'Esprit Saint. Ne nous trompons pas comme Zacharie devant cette présence de Dieu au temple où il a refusé d'accepter le message de l'ange, plutôt découvrons comme and avec Marie, seule dans sa maison, notre maison, dans notre cœur, avec son Dieu et notre Dieu, dans un dialogue intime, profond et dans une relation interpersonnelle. Que toute rencontre humaine soit une rencontre divine, car Dieu demeure en nous.
« Le Seigneur est avec vous » lui a dit l'ange du Seigneur. Marie dit alors : « Voici la servante du Seigneur ; Que tout m'advienne selon ta parole. » Alors l'ange la quitta. Ne quittons pas cette église sans cette assurance. Je vous souhaite une bonne préparation. Amen.
In English
Gospel text (Lc 1,26-38):
In the sixth month, the angel Gabriel was sent from God to a town of Galilee called Nazareth. He was sent to a young virgin who was betrothed to a man named Joseph, of the family of David; and the virgin's name was Mary. The angel came to her and said, «Rejoice, full of grace, the Lord is with you». Mary was troubled at these words, wondering what this greeting could mean.

But the angel said, «Do not fear, Mary, for God has looked kindly on you. You shall conceive and bear a son and you shall call him Jesus. He will be great and shall rightly be called Son of the Most High. The Lord God will give him the kingdom of David, his ancestor; He will rule over the people of Jacob forever and his reign shall have no end». Then Mary said to the angel, «How can this be if I am a virgin?». And the angel said to her, «The Holy Spirit will come upon you and the power of the Most High will overshadow you; therefore, the holy child to be born shall be called Son of God. Even your relative Elizabeth is expecting a son in her old age, although she was unable to have a child, and she is now in her sixth month. With God nothing is impossible». Then Mary said, «I am the handmaid of the Lord, let it be done to me as you have said». And the angel left her.
Homily
Today's Gospel leads us to Nazareth to a small village where, a virgin betrothed to a man named Joseph was living. We are entering interior of this exceptional family, they are completely different people, yet they are committed to fulfilling the will of God. "Thy will be done. » It is in this fulfillment of God's promise to Abraham and particularly to the people of Israel that we are witnessing these days in the celebration of the Incarnation.

Annunciation happens in a discreet place, at home, alone with Mary, in an isolated place of the house and with Joseph and Angel it is in the dream, deep sleep, in the darkness. A personal invitation extended to these people with a particular mission in a particular time, but with universal implications for the eternity. God invites us individually for universal mission. Mary listened to the Word of God, and today she will repeat the same request to us, "Do whatever He tells you"

In a few days we will celebrate Christmas, the birth of Christ, King of the universe, in a manger, surrounded only by his parents and animals. "Hail Mary, full of grace. " A grace to give birth to the son in a foreign land? Without a shelter and protection? This grace is totally different, nothing to do with material blessings. It is a special grace accorded only to Mary and Joseph in the divine history: to bear the Holy Child in their own hands and feed Him, to be with Him, to participate in His joy, in its smallness, but a grace that God has given to His creature in Mary, to protect the Savior of the world. How much God is in need of us to this accomplishment of His promise! Joseph silently meditating with Mary all these events happening in his family and accompanies gladly like a faithful shadow, follows Mary and her Son, where ever God asked Him to lead them.

Since four weeks we are preparing for this Christmas, in order to participate in our smallness in the joy of this holy and wonderful family. As the people of Israel, we are waiting for the Lord, who will be born, in us alone, in our intimacy. "The Lord is with you," says the angel to us through Mary, and with Mary, we are invited to participate in his mission, not as an individual, but with others, like Mary with joseph and God with the people of God, through millions of known and unknown faces.

We believe that all is well in the right direction leads us towards the new born child. We did everything possible to welcome the child in our hearts. Let us beware! There will be unexpected events. Like David we may plan something wonderful and just. But God will willfully deny us the permission to go further, by telling us, first listen to me and do the rest We won't be able to understand the events that will hit us. Jesus may come in the form of an arrogant man, may be in the form of an angry person, may be in the form of a unforgiving mentality. Are we ready to accept such people as part of our family and friends or going to expel them outside of our house? You may find me very much unreasonable and harsh. But who can tell us the way God functions? "Fear not, Mary, for you have found favor with God. "This will be our consolation. God will be with us, if we keep still our door open for such people who are generously rejected by the society, because they choose the best and the rest will be always out.

Today like king David we wish to keep God in the tabernacle and go back home live a life with is contrary to the law of love. David wanted to build God's temple, where he hoped to trap the presence of God forever with him. It's amazing that man desires to build a house for God forgetting that his house is given by God. We cannot and must not put God in his place, rather demand God, where is our place.
I urge you, my friends, do not forget that God lives in us. We are the temples of the Holy Spirit. Make no mistake like Zechariah before the very presence of God in the temple, who refused to believe in God's word, rather let us discover the divine presence of God like Mary, alone in the house, with her God in an intimate and deep dialogue, in an interpersonal relationship. It is through the human encounters that God reveals His loving presence in this world.

"The Lord is with you," said the angel of the Lord. Mary said, "Behold the handmaid of the Lord; That everything be done to me according to your word. "Then the angel left her. Dear friends, let us not leave from this Sunday celebration without this insurance. I wish you a good preparation. Amen.