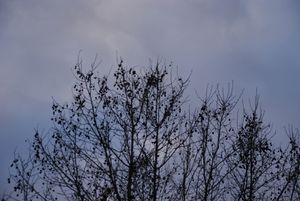 Évangile de Jésus Christ selon saint Matthieu
(Mt 5, 13-16)
Comme les disciples s'étaient rassemblés autour de Jésus, sur la montagne, il leur disait :
« Vous êtes le sel de la terre. Si le sel se dénature, comment redeviendra-t-il du sel ? Il n'est plus bon à rien : on le jette dehors et les gens le piétinent.

Vous êtes la lumière du monde. Une ville située sur une montagne ne peut être cachée.
Et l'on n'allume pas une lampe pour la mettre sous le boisseau ; on la met sur le lampadaire, et elle brille pour tous ceux qui sont dans la maison.
De même, que votre lumière brille devant les hommes : alors en voyant ce que vous faites de bien, ils rendront gloire à votre Père qui est aux cieux. »
Homélie
Aujourd'hui, le Seigneur nous invite à être sa lumière dans ce monde qui est dominé par les ténèbres. Pour nous les chrétiens, Jésus est notre lumière. Comme la lune, qui reflète la lumière du soleil, nous devons nous refléter cette lumière, le Christ dans ce monde.
Le prophète Isaïe nous éclaire sur cette lumière. Si voulons d'être cette lumière dans ce monde, nous devons mettre en pratique tout ce qu'il nous dit dans la première lecture, « Partager ton pain avec celui qui a faim, recueille chez toi le malheureux sans abri,……….Alors ta lumière jaillira comme l'aurore …..et la gloire du Seigneur t'accompagnera. »
Nous ne sommes pas appelé à porter notre propre lumière, mais celle du Christ ressuscité, celle d'espérance et de joie. Puisque nous représentons le Seigneur de miséricorde et de pardon, dans notre vie, nous devons rendre visible cet amour divin en nous aimant les uns les autres.
Nous aimerons fixer nos regards vers le ciel, et tentons de chercher tout ce qui est capable de plaire le Seigneur. Or, la première lecture nous amène vers le peuple de Dieu qui souffre et qui sont victimes de violence et de peine. Nous devons les apporter la libération, car notre Dieu est un Dieu qui libère le peuple.
Très souvent dans notre vie quotidienne, nous voulons vivre une vie seine, et de sainteté. Nous voulons décorer notre vie avec les vertus et de prière. Si une lampe est jolie et belle, c'est tant mieux, mais franchement, ce n'est pas la finalité de cette lampe. Ce qui est important et lui est demandé d'abord, c'est d'éclairer. Enlever les ombres et remplir la terre avec une espérance inépuisable du Seigneur qui lui fera vivre sa vie pleinement.
Quand le Seigneur nous dit que nous sommes le sel de la terre et la lumière du monde, il nous envoie comme les missionnaires qui rendent une beauté à la vie des hommes en ajoutant un peu de sel de la présence du Seigneur, pour que les autres savourent la générosité du Seigneur. Comme le sel, qui révèle le goût qui se cache dans le repas, nous devons rendre visible cette présence de Dieu dans leur vie quotidienne. Comme la lumière, nous éclairons et montrons au monde que l'amour et le pardon existent encore. Par cette lumière du Christ nous assurons au monde qu'il ne devait pas désespérer. Dieu est avec nous.
Aujourd'hui, on est appelé à être ce sel qui donne saveur et cette lumière qui attire le monde vers Dieu. Que nous les soyons. Amen.
In English
Gospel text (Mt 5,13-16):
Jesus said to his disciples: «You are the salt of the earth. But if salt has lost its strength, how can it be made salty again? It has become useless. It can only be thrown away and people will trample on it. You are the light of the world. A city built on a mountain cannot be hidden. No one lights a lamp and covers it; instead it is put on a lamp stand, where it gives light to everyone in the house. In the same way your light must shine before others, so that they may see the good you do and praise your Father in heaven».
Homily
Every Sunday we come to the church for the Eucharistic celebration and we are nourished by the Word of God and of the Body and blood of Christ. It is in this nourishment that our Christian faith gets it root and the meaning of life. We restart to live a new weak inspired by the word of God and feel affirmed that the Lord is with us.
In today's gospel Jesus is inviting us to be His light in this world, where darkness and activities of the night dominate every spears of life. To us the baptized, Jesus is our light that illumines our heart with hope and peace. When Jesus calls us that we are the light of the world, we realize humbly that Jesus is this light and as the moon which reflects the light of the sun, we reflect the light of Christ in this world. It is the vocation of every Christian to brighten the life of our brothers and sisters, by living our life fully in Christ.
The prophet Isaiah in the first reading sheds light on the sense of this light. Let us listen well everything he tells us in the first reading, " Share your bread with the hungry , collected in the unfortunate homeless, covers one you see without clothes , do not hide yourself to your fellow . Then shall thy light break forth like the dawn, and ……………..the glory of the Lord will be with you . " It is in our service to needy and the poor, that we can bring the light in to the heart our brothers and sisters.
Like Saint Paul, we have to live a life in Christ and through Christ, so that we may be able to say like him, that it's not me, but Christ who lives in me. We must not bring our own light, but the light of the Risen Christ , the hope and joy of the people of God. Since we represent the Lord of mercy and forgiveness, in our daily lives, we must make visible this divine love, by our forgiveness and our acceptation of others as they are.
We would like to set our eyes towards heaven , and try to do anything that is capable of pleasing the Lord. Fixing our orientation towards the will of the Father, will lead us to the people of God who suffers and who are victims of all sort of violence, separation and isolation. We need to bring liberation to these people, for our God is a God who liberates the people.
Very often in our daily life we want to live a pure life, filled with holiness which resemble the life of saints. We want to decorate our life with the virtues, prayers and meditations. If a lamp is pretty and beautiful , so much the better , but frankly, it is not the purpose of this lamp . What is important and is asked first is to shine and show the way. If our life doesn't remove shadows of our brothers and sisters and if it doesn't fill the earth with endless hope of Christ, Jesus is asking us, what is the use of our holiness and sainthood?
When the Lord tells us that we are the salt of the earth and the light of the world, He sends us as missionaries to make the life of ordinary people in to a beautiful garden where all are appeased and to add a little salt, so that others may enjoy the bounty of the Lord. As salt, we add a value that lies hidden in the daily meals. Just like the light which enlightens us, let us show to the world through our daily lives that love and forgiveness still exist. By the light of Christ we assure the world that there is no reason that it should despair. God is with us .
Today, we are called to be this salt that gives flavor and the light that attracts the world to God. Amen .