Publié le 24 Décembre 2013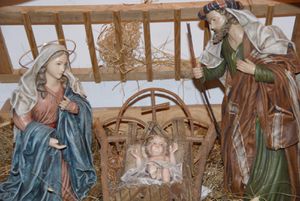 La messe de nuit
Homélie
Oui ! Un enfant nous est né, un fils nous a été donné ; l'insigne du pouvoir est sur son épaule ; on proclame son nom : « Merveilleux-Conseiller, Dieu-Fort, Père-à-jamais, Prince-de-la-Paix ». C'est dans cette joie que nous nous sommes réunis et nous célébrons Noël avec la famille. Comme les bergers d'Israël nous disons ensemble, « Allons donc jusqu'à Bethlehem et voyons ce qui est arrivé.
Avec l'immense cortège des anges du ciel, nous entendons les chants des anges et nous chantons un chant nouveau, un chant plein d'amour et plein de reconnaissance. Gloire à Dieu, au plus haut des cieux, paix sur la terre aux hommes qu'il aime.
Comme Marie, nous croyons à la providence du Seigneur. La fête de Noël, nous rappelle cette proximité de Dieu. L'incarnation est un cadeau si précieux que Dieu nous offre aujourd'hui que l'homme n'arrive pas à comprendre ce choix de Dieu, le mystère de l'incarnation dans la pauvreté et dans la faiblesse.
Pour comprendre ce mystère saint Hippolyte de Rome nous donne un très bon conseil, « ne voyons pas selon notre propre choix, ni d'après notre propre intelligence, ………. mais de la façon que lui-même a voulu indiquer par les sainte Ecritures. Nous devons écouter dans l'humilité cette Parole de la joie et du bonheur. C'est dans cette écoute et dans cette recherche pour la vérité que nous pouvons rencontrer le Messie dans cet enfant qui est faible et qui a besoin de notre soutient. Pour tout comprendre nous avons besoin d'un regard de foi, un regard divin.
L'incarnation est un commencement d'une nouvelle création, où le monde se trouve devant un Dieu qui nous aime. « Il a tellement aimé le monde qu'il nous a envoyé son Fils, ce n'est pas pour nous juger, mais par lui que le monde soit sauver », nous dit saint Jean. « Célébrons dans la joie l'avènement de notre salut et notre rédemption » nous dit saint Augustin.
Saint Paul nous a dit que l'incarnation est la manifestation de la gloire de Dieu. Dieu se révèle dans la faiblesse et dans la pauvreté des hommes. Il est né dans une mangeoire, seul avec Marie et Joseph. Même dans cette solitude, il est très proche à la création, dehors de la maison, car il n'y a pas de place. Mes amis, nous devons ouvrir la porte d'entrée de nos maisons, nos richesses et nos cœurs aux besoins des autres. C'est ainsi que nous pourrions l'accueillir dans la maison et dans nos cœurs.
Les anges du Seigneur annonce la Bonne Nouvelle aux bergers qui veillent, protègent et prient pour ses brebis. Les anges leurs assurent et aujourd'hui ils nous assurent en disant « n'ayez pas peur ». Peur de quitter nos habitudes, des lieux de sécurité, peur d'avenir, de violences et de souffrance. Il est avec nous, le Seigneur de l'univers. Avec lui, nous pouvons tout avoir. Dans cette célébration de l'Eucharistie, nous allons à la rencontre d'enfant mailloté. Les anges nous accompagnent et ils nous proclament, « Aujourd'hui vous est né un Sauveur, dans la ville de David. Il est le Messie, le Seigneur. » Amen.
In English Mid night
Yes ! A child is born to us, a son is given to us and dominion is on his shoulder , and his name is proclaimed : " Wonderful Counsellor , Mighty God, Everlasting Father, the Prince of Peace " . It is this joy that we are here and we celebrate Christmas with the family. Like the shepherds of Israel we say together, " Let's go to Bethlehem and see what happened .

With the huge procession of angels in heaven we hear the songs of the angels and we join them singing a new song , full of love and full of gratitude. Glory to God in the highest, on earth peace to men of good .

Like Mary, we believe in the Lord's providence . On the feast of Christmas, we remember that closeness of God, a God who is with us. The incarnation is so precious gift that God offers us today that the man does not understand this choice of God , the mystery of the Incarnation in poverty and weakness.
To understand this mystery St. Hippolytus of Rome gives us very good advice , " do not see at our discretion , or according to our own intelligence .......... but the way that he wanted to be specified by the Holy Scriptures. We must listen to the Word in humility, with joy and happiness. It is in this listening and in this search for the truth that we can meet the Messiah in the child who is weak and in need of our support . To understand this great mystery we need the eyes of faith , a divine look.

The incarnation is a beginning of a new creation, where the world is face to face with a God who loves us. "He so loved the world that He sent us His Son, it is not for us to judge, but through him the world might be saved ," says John. "Let us Celebrate with joy in the incarnation of our salvation and redemption " says St. Augustine.

Saint Paul tells us that the incarnation is the manifestation of the glory of God. God is revealed in weakness and poverty of men. He was born in a manger, alone with Mary and Joseph. Even in this loneliness, He is very close to the creation, outside the house , because there is no place . My friends, we need to open the front door of our homes , our wealth and our hearts to the needs of others. Thus we could accommodate the child Jesus in the house and in our hearts.

The angels of the Lord proclaims the Good News to the shepherds watching , protecting and praying for the sheep. The r angels assure them and today they assure us saying " do not be afraid ." Afraid to leave our habits , be displaced of the places of safety , fear of future, the violence in our society and suffering. He is with us , the Lord of the universe. With Him and in Him, we have it all. In this celebration of the Eucharist, we are going to meet the little new born child. Angels accompany us and they proclaim, "Today is born to you a Savior, in the city of David . He is the Messiah , the Lord . " Amen .
The day mass
The earth have seen the Savior that God gives us . Yesterday we celebrated Christmas with the faithful and today we meditate and we marvel at the mystery of the incarnation. The Word made flesh. Why God made this choice, and this choice of God is incomprehensible to human intelligence.
The incarnation makes us worthy to reborn in God, as Jesus intended. It is in this new birth that man can find his salvation . God emptied Himself , took our flesh, to become one of us by which He raises human being in his original state of creation, thus He make man to participate in his holiness in its fullness.

Through this incarnation the all powerful God reminds us that He needs Mary, a human cooperation for the fulfillment of the promise made to our father Abraham. It is this cooperation that man can participate in God's mission . In Jesus we are invited to participate in the fulfillment of God's plan .

John in his gospel assures us , "The light shines in the darkness, and the darkness did not stop . " Yet he continues to say , " He came unto His own , and His own did not receive Him. " . Unfortunately there was only one Mary, who was able to identify and answer to the call of God positively. We need many such Marys to tell the Lord "YES ", a definitive yes to be with him until the end of the world.

It is in Jesus Christ we discover a God , who is so close, a God who understands us perfectly , a God who loves us. It is in this divine love that God invites us to share . Christmas is a perfect sharing where God made ​​man to participate in his divinity. God made man in Jesus .

Before each divine intervention in the old testament was deadly where man even dared not look at God. There was fear, fear of dying. The first message that the angels communicated to the shepherds of Israel was, " " Fear not , for behold I bring you good news of great joy for all the people : to you is born a Savior , in the city of David . He is the Messiah , the Lord . "

My bothers and sisters today is a day of celebration , a festival of light . Saint Paul tells us that we are children of light. We must live in the light. The Christmas celebration removes any kind of darkness in our lives. He is with us , the Lord of light. "Yes ! A child is born, to us a son is given to us and dominion is on his shoulder , and his name is proclaimed : " Wonderful Counsellor , Mighty God, Everlasting Father to ever, the Prince of Peace " . Amen .